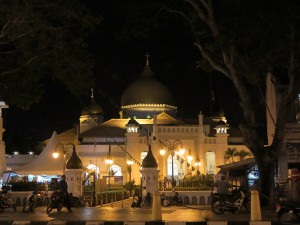 Spending a little less than two weeks in Malaysia was a great little get away. We flew in and out of Penang International Airport and spent the next ten days in the nearby Cameron Highlands, Ipoh, and Taiping. It was a sweet tip, but we couldn't have chosen a worse time. The end of Ramadan coincided with a two week school holiday and every Malay who had the opportunity to travel was on the road and in the hotels. This caused hotel prices to double and bus trips to be more than twice as long.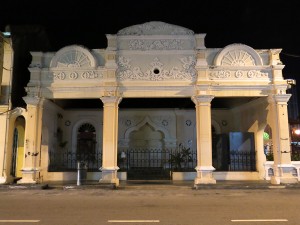 The first couple of days in Penang, Laurel and I just tried to figure out what was going on in Malaysia. We were both here about ten years ago, but that didn't really help with orienting ourselves. We stayed in a pretty fancy hotel in Georgetown and spent a lot of time at the Indian food restaurants which are far superior and cheaper than those in Thailand.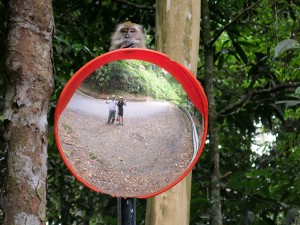 We also got a chance to see Penang from above as we took the funicular tram up Penang Hill and walked down the long and step wooded hike back to a large botanical garden. We even saw a monkey in the wild. As far as we could tell, it was trying to destroy a roadside mirror. If you are thinking of walking down from Penang Hill, remember that it is a pretty far walk and can get incredibly slippery in the rain. Luckily we made it alright, although getting a cab home was pretty difficult (holidays and the buses were way off schedule).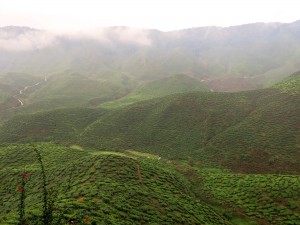 From Penang we headed to Tanah Rata in the Cameron Highlands. This area is pretty much where they make all the tea Malaysia. Now, with the availability of hydroponics and electricity being cheap and widespread, strawberries also are taking over as the main tourist draw. Aside from tons of opportunities to see tea plants and drink pulled tea, there is really some amazing hiking.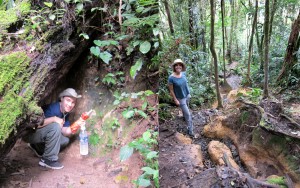 The trails are filled with butterflies, lizards, and flowers in a variety of shapes and colors. We saw wild orchids and giant squirrels. Also, when hiking, it seems like you have the whole place to yourself. Laurel and I spend two full eight hour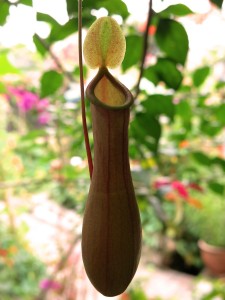 days hiking and we never saw another person on the trails. Most hotels and guesthouse will have simply maps that show trail routes, though seemingly never to scale. Also, we drank a ton of water, so be careful to stay hydrated!
After having a great time in Tanah Rata, we bused back out of the mountains down to Ipoh. This city is a very funky place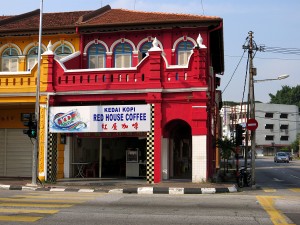 to visit, but I am glad I did. There are some amazing Buddhist temples carved into old limestone caves that are really amazing. Also, like this whole area of Malaysia, there is a strange mix of old colonial architecture and 1960s square box buildings that seem to all be decaying at an equally alarming rate. Also most tourists who visit the caves do it as a stop on their way to somewhere else and do not stay in the city. Apparently this is why most people will stare at you if you are walking around in town. And I mean stare. Usually, if you smile at them, people will realize they are staring, smile, and look away. But, just as often people will continue to give you a deadpan stare as if you are from another world. That being said, we meet many friendly people and even got several dollars of free durian and great conversation with the owner of possible the best coffee shop in Malaysia.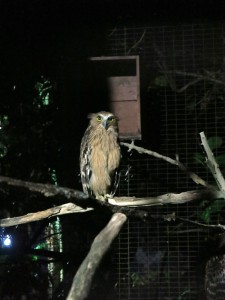 After a couple days in Ipoh we left for Taiping. Only about an hour and fifteen minutes away by bus, this location felt totally different. Malaysian Chinese, and apparently the Chinese expat community in general, seem to flock to the city for retirement. This leads to a city that feels a lot like you are in Taiwan or southern China. The best part about Taiping by far was the Night Safari at the local zoo. They let you in to the zoo at night and you can walk around all by yourself looking at the animals and getting really up close and personal while they are all awake and active. Most Malays seem uninterested in walking around and take loud, fast-moving trams around the park. It is a little annoying and crazy because they don't even really get to see anything. Walking however was fantastic.
After Taiping, we few back to Bangkok and now I am just getting back to work. National Archives here I come…